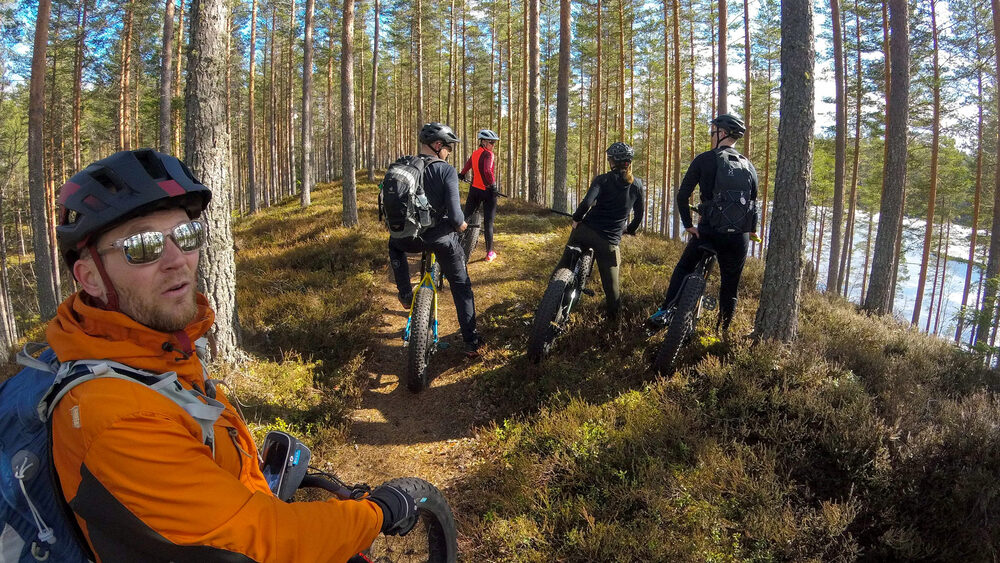 Activity
Fatbike-retki Laulavan Mörön upeille poluille Äänekoskelle tilauksesta lumettomana aikana
Ohjattu fatbike-retkit Laulavan Mörön polulle Äänekoskelle lumettomana aikana
Retki toteutetaan Laulavan Mörön polulla joka puikkelehtii keskisuomalaisissa järvimaisemissa Sumiaisissa Syvälahden, Lohilahden ja Vihijärven kylien metsäisillä kankailla ja harjanteilla nousten välillä kauniita kaukometsänäkymiä tarjoaville vuorille. Ikiajat ovat kyläläiset hoitaneet kanssakäymisensä vesiteiden ohella helppokulkuisia harju- ja kangaspolkuja pitkin. Osan näin syntynyttä laajaa, jo umpeutumassa olevaa polkuverkostoa on Syvälahden kyläyhdistys raivannut ja merkinnyt maastoon kaikkien luonnossa liikkujien iloksi.
Matka n. 15 km. Retken alussa tutustumme fatbike-pyöriin ja opas antaa vinkkejä pyöräilyyn liittyen.

Lähtöpaikka
Syvälahden entisen koulun pihan parkkipaikka, os Lohilahdentie 4, 44260 Vihijärvi
Paluupaikka . Mörön Laavu / Suolahti.
Tarvittaessa paluukuljetus lähtöpaikkaan + 10 € / hlö

Hinta 69 €/hlö
Minimi 7 henkilöä. Max 12 henkilöä.
Mahd. sauna ja majoitus. Kysy lisää Visit Äänekoski tai Kapeenkoski Oy!
Äänekosken matkailuinfo
Hallintokatu 4, Äänekoski
puh. 040 191 7542
matkailu@aanekoski.fi
Price includes:
Guide's services
Technical tips to fatbiking
Guidance in the nature
Instructions to fatbikes and biking according to the customers skill level
A quality fatbike (Trek Farley 5, 2021 model)
A helmet
Guide's liability insurance
Taxi transportation
Please bring along:
Excited and open mind
Clothing according to the weather
Biking or gym gloves
Sturdy shoes
A water bottle and at least 0,5 l of water
Sunglasses or cycling glasses
Accident and/or tavel insurance
Optional: your own helmet
For more information please call +358 44 345 6107 (Timo)
Campfire lunch available for additional price!
Share on Facebook
Basic information
| | |
| --- | --- |
| further information: | 044 345 6107/ Timo |
| Suitability: | Pyöräilytaitoisille, peruskuntoisille |
| Difficulty: | 1-3 |
| Qualifications: | Eräopas tai liikunnan ammattitutkinto/ eräpasopiskelija |
| Insurances: | Tuottajan vastuuvakuutus |
| Address: | Lohilahdentie 4, 44260 Vihijärvi, Suolahti |
| Languages: | Finnish English |
| Links: | http://versona.fi/fi/ |
Book now
Organizer
Versona Oy
Puutarhakatu 15 a 11
40100 Jyväskylä
044-3456107
timo@versona.fi