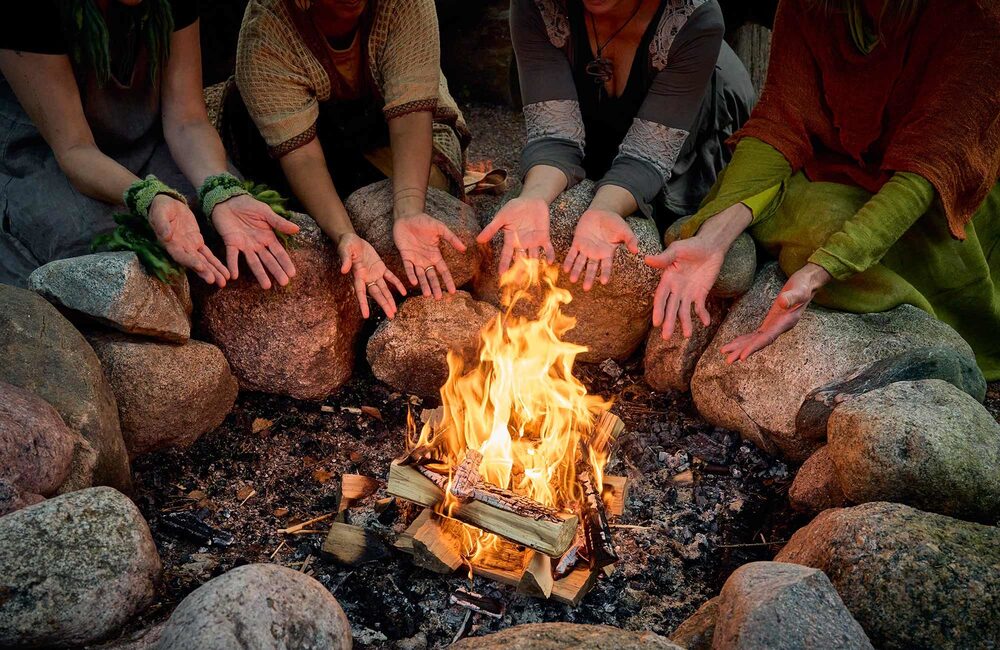 Activity
Autumn Day in Wäinölä 25.9.2022
Vihti
AUTUMN EQUINOX & BEAR DAY
Autumnal equinox 25.9. is the day when the Sun moves from the northern hemisphere to the southern hemisphere. After the autumnal equinox, the night becomes longer than the day in the North. Matti-day in September 21.9. was believed that the bear goes into hibernation "From Matti the bear lays down and from Matti it rises".
In Wäinölä, these two autumn events are celebrated in the same party on Sunday, September 25. At the beginning of the program, we enjoy herbal tea with cookies and dive into the harvest theme by the campfire. We sing together in the forest and move then to the atmospheric Wäinölä log cabin, where we dive into bear mythology and celebrate the Bear. After the program, there is the option of a meal for an additional fee.
PERFORMERS
ULLA HILLEBRANDT
Ulla is an artist, singer and violinist, traditional folk musician as well as a folk dance and nature connection instructor. Ulla's work combines folklore, music and forest mythology.
GABRIELA ARIANA
Gabriela is an ecological artist, dance artist, singer, body therapist as well as a carrier of ancestral traditions and an expert in rites of passage. Gabriela's work is based on the principles of ecosomatics and the art of expression.
MAGDALENA MÖLSÄ
Magdalena, performing under the name Vaskilintu, is a vocalist and ritual musician. Shee is inspired by the healing therapeutic aspects of ceremonial music and embodied holistic sound work.
PROGRAM
15:00 Herbal drink at Wäinölä campfire and program in the forest, weather permitting
16:00 The program continues inside Wäinölä
17:00 The program ends and the optional meal begins (book in advance)
For food: Wild mushroom pie and autumn salad, also gluten-free
ACCESSIBLE OPPORTUNITY
Wäinölä is accessible, the campfire site and the cabin can be reached by wheelchair, and there is an accessible dry toilet next to it.
WÄINÖLÄ
Nuuksio Wäinölä is a unique event space in the middle of the forest, next to the Nuuksio National Park. In Wäinölä, Finnish traditions are honored, it got its name from the home village of Väinämöinen, the great hero of the Kalevala, and was built in the Iron Age style from hand-carved logs. The large fireplace brings atmosphere and warmth, 40 people can fit on the benches covered with blankets and rugs.
WÄINÖLÄ YEAR CYCLE
The year round celebrations are celebrated in Wäinölä on Sundays from 15:00 to 17:00. The cycle of the year revives and renews old traditions and enlivens them through the means of art. Read more about on our website nuuksiontaika.fi/vuodenkierto.
You are warmly welcome!
Share on Facebook
Basic information
| | |
| --- | --- |
| further information: | Tervetuloa |
| Suitability: | all ages |
| Difficulty: | easy |
| Qualifications: | for all |
| Insurances: | liability insurance |
| Address: | Paratiisintie 115, 03300, Otalampi |
| Languages: | Finnish English |
| Links: | http://www.nuuksiontaika.fi/en |
Book now
Organizer
Nuuksion Taika Oy
Paratiisintie 115
03300 Otalampi
+358 505050869
info@nuuksiontaika.fi